Audition for the School of Music: A student's perspective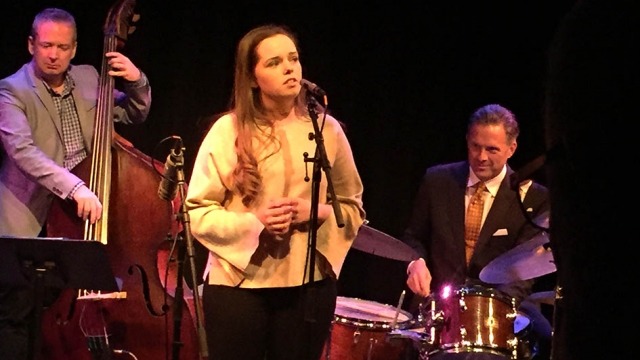 "I am a first year jazz vocalist, at the ANU School if Music. In my spare time I perform around Canberra playing piano and ukulele, and with my friends "The Prisoners of Jazzkaban" who are also School of Music students. I started singing when I was very little as a way to grow confidence and perform in front of others. I also did a lot of musicals and dancing while I was growing up."
"When it came to looking at universities, I had a few options, as I didn't know which style of singing I wanted to pursue. I auditioned at various schools, and received places at those schools as well, but I chose to study at ANU. I liked the fact that the school was so personal. The Head of the School Professor Ken Lampl, even called me and we had a conversation about why ANU could be a great pick for me. It was a pleasant change to some of the bigger schools where I had sent many emails and never received a reply."
"I still get worked up when it comes to auditions, and uni auditions are definitely nerve-racking. ANU made it possible for me to do a video audition, which took the end-of-year stress off my shoulders. As someone who has done quite a lot of auditions in the past, the thing I like to remind myself before going in is that everybody on the panel really wants to see you, and they want you to be good. They aren't there to criticise you or belittle you, but instead to give you positive opportunities to improve yourself and explore your music."
"Although auditions can be concerning, the opportunities ANU gives you makes it worthwhile. In year 11 and 12 I was a part of the ANU's H-Course program, which meant that I had some course credit, and I could start uni by studying electives and decide which direction I wanted to go with my further years of study. In semester one, I studied Composition, Music Technology, and Performance which was really fun and interactive. Living in Canberra I always have opportunities to perform too, this year I have already played 60 gigs; it's like having another part-time job!"
Sophie Edwards
Bachelor of Music (Performance)
Prospective students intending to study a Bachelor of Music in Performance at the ANU School of Music must pass an audition for enrolment in Semester 1 2018. Prospective students are required to do a live audition or upload a digital audition so it can be reviewed as soon as possible.
Auditions will be held at the School of Music from Thursday 7 to Saturday 9 September 2017.
For more information on auditions or applying to study Composition or Music Technology: 
https://music.anu.edu.au/future-studen…/apply/bachelor-music
Enquires:
music@anu.edu.au
02 6125 5700