Associate Professor Susan West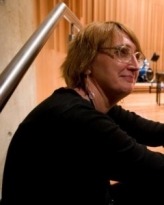 Convenor, Music Engagement Program
School of Music
+61 2 6125 5776
BMus Melb MEd CSU PhD ANU GradDip Kodály Inst
A/Prof Susan West brings to her role as Convener of the Music Engagement Program over thirty years experience as a performer, educator, composer and arranger. Her work in developing pre-tertiary music programs and post-graduate teacher-training is at the cutting edge of music education with wide-ranging influences from traditional music philosophies, both ancient and modern, to holistic and therapeutic uses of music.
A/Prof West trained in music performance at the Melbourne University Conservatorium of Music and the Victorian College of the Arts and obtained a post-graduate degree in music education from the Kodaly Institute of Hungary. She played Principal Piccolo with the Western Australian Symphony Orchestra in 1980 and then Associate Principal and Principal Flute with the Sydney Symphony Orchestra from 1981-1985. During this time she was also a member of the Australian Wind Virtuosi, touring nationally and internationally.
She was invited to the Canberra School of Music in 1984 to help establish the Music Education Program. Recognizing a need for different and more successful forms of music education, she continued her studies, first at Charles Sturt University and later with the Institute for Music and Health, New York. She developed the innovative approach to music education 'The Music Outreach Principle' a therapeutic approach that affects the musical lives of over 10,000 adults and children in the ACT.
A/Prof West's work has attracted both national and international interest.  She not only works as a music educator but composes and arranges for children, instrumental groups, and for film. Her work is being documented in a range of short films from Ronin Films, Australia. She has been recognized through various awards, including a National Children's Week Award, a National Women's Day Award and a citation for Teaching Excellence from the Carrick Institute. Most recently the Hand-in-Hand Outreach Program was recognized for its excellence as a community outreach program through a national awards program run by the Music Council of Australia.
Performing Arts And Creative Writing
Music Performance
Music Composition
West, S 2009, 'Selective Mutism for Singing (SMS) and its treatment: Conceptualising musical disengagement as mass social dysfunction', National Conference: Musical Understanding 2009, ed. William Baker, Australian Society for Music Education, Tasmania, pp. 212-219.
West, S 2009, 'The Australian National University Music Education Programme: developing a new approach to ongoing engagement in music making for all ages', International Journal of Community Music, vol. 2, no. 2 & 3, pp. 241-254.
West, S 2008, 'Children and Choice: Expanding music repertoire choices through consultation and participation beyond the school gates', International Association for the Study of Popular Music Australia/New Zealand Conference 2007, ed. Dan Bendrups, University of Otago, New Zealand, pp. 175-180.
West, S 2007, Everyone Knows Aeroplane Jelly, Throughout the wider Canberra community, Ronin Films, Canberra, Australia.
West, S 2007, The Chifley Cantata, Ronin Films, Canberra, Australia.
West, S 2004, Hand-in-Hand, 000, Ronin Films, Canberra, Australia.
West, S 2004, Hans Christian Andersen Medley 1 and 2, 000, Ronin Films, Canberra, Australia.
West, S 2003, 'Mining Tin Pan Alley: The songs of Tin Pan Alley as a social, musical and educational resource in the development of music making, based on a community-focused social/altruistic philosophy', Youth Studies Australia, vol. 22, no. 2, pp. 25-31.