You are here

»
People
» MEP Academics
MEP Academics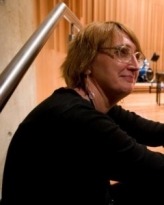 Convenor, Music Engagement Program
+61 2 6125 5776
Music Support Teachers
Teachers who have engaged in MEP training and coaching for many years are encouraged to coach other teachers in their own schools.  Four teachers from the ACT school system have both worked for, and been trained by the MEP intensively, so that their skills and experience might be fed back into the education system.  
Nicole Mengel, Mount Rogers Primary School
Nicole has been a fixture of the MEP since she came to work for the program on secondment from the department of education in 2007. Since that time, Nicole has pioneered various coaching and support approaches in schools across the ACT, written research papers, developed resources, and drafted the MEP Curriculum which aligns MEP approaches with outcomes suggested by the National Curriculum for the Arts. Nicole continues to run MEP teacher workshops as well as support music in her school and community.
Bob Crisp, Kingsford Smith School
Bob Crisp began as a classroom teacher, and since training with the MEP in 2006 is now the music teacher responsible for singing in the primary school years at Kingsford Smith School. Bob has pioneered the use of music technology in supporting music making and outreach, and regularly takes his students on community outreach. Bob co-hosted both the Floriade and Big Gig community concerts in 2015, and began running MEP workshops for teachers.
Tiffany Fletcher, Palmerston District Primary School
Tiffany first trained with the MEP in 2006, and since then has taken a leading role amongst her fellow teachers in how to embed music making into the curriculum and across the school. Tiffany has particular interest in nursing home outreach, and the importance of music making for at-risk children. Tiffany is now in charge of arts learning at her school, and supports the creative activities of children and the local school community. In 2015 Tiffany co-hosted both the Floriade and Big Gig Community concerts.
Mariana Fuenzalida, O'Connor Cooperative School
Mariana introduced the MEP at the O'Connor Cooperative in 2013.  This has involved aligning music with other areas of the curriculum such as history and the broader arts. Mariana runs weekly commu-nity singing sessions which offer children, staff and parents the opportunity to make music together. Mariana organises whole school music making events such as Mother's Day, singing as part of learning journeys, outreach visits, and the school's participation in MEP events. In 2015, the focus of Mariana's action research was to look at the role singing affected children's oral language and literacy development.