Ensembles
The School of Music offers a wide range of ensemble opportunities for all members of the ANU community including staff, students and visitors. The ensemble offerings vary from year to year. A core group of ensembles form part of the Performance Major for students studying the Bachelor of Music. Entry to these ensembles is based on audition and ensemble need.
» Find out more about the Ensemble Program at the ANU Programs and Courses website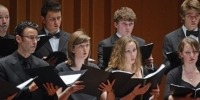 ANU Chamber Choir
Choral music from the Sixteenth Century to today
Directed by:
Rehearsal: Monday 10am to 12pm Larry Sitsky Recital Room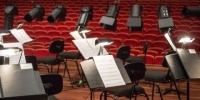 ANU Chamber Music Ensembles
Form a small ensemble to experience an extensive range of chamber music repertoire through the centuries
Directed by: Mr Tor Frømyhr
Rehearsal: Friday 1-3pm Larry Sitsky Recital Room

ANU Contemporary Music Ensembles
Contemporary & popular music
Directed by:
Rehearsal: Friday 11am to 1pm Band Room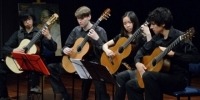 ANU Guitar Ensemble
Chamber ensemble music for Guitar
Directed by:
Rehearsal: Friday 1:00pm to 3:00pm Lecture Theatre 1

ANU Jazz Choir
Contemporary choral music & close-voice harmony, a cappella & with rhythm section
Directed by:
Rehearsal: Friday 14.00-16.00 Big Band Room

ANU Jazz Combos
Play traditonal and innovative styles of jazz in small ensembles
Directed by:
Rehearsal: Friday 11.00-13.00 Band Room (plus break out room)

Band of the RMC Duntroon
Concert Band
Directed by:
Rehearsal: RMC Duntroon

The Band of the Royal Military College, often referred to as RMC Band or the Duntroon Band is based in Canberra. Its role for the Army and the Australian Defence Force is predominantly ceremonial in support of Vice-Regal and government agencies, Defence Headquarters and the Royal Military College, but off the parade ground it performs as a concert band and has a variety of smaller ensembles as well.
These ensembles include a concert band, marching band, stage band, woodwind quintet, brass quintet, jazz ensemble, rock band, dixie band (known as the Steamboat Stompers), saxophone quartet, clarinet quartet, and woodwind trio. This versatility enables the band to cover all ceremonial tasking in the ACT and to perform a regional role through community engagement.
»
SoM-CSO Chamber Orchestra
Youth Training Orchestra
Directed by: Dr Paul McMahon
Rehearsal: