Girls Jazz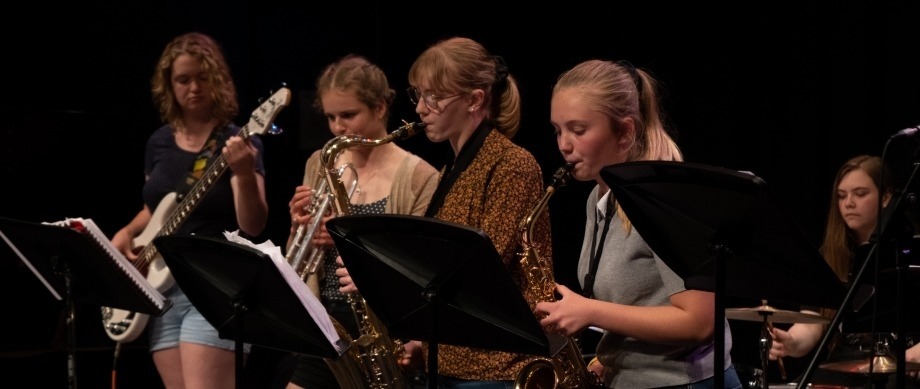 Led by the versatile and much sought-after teacher Jess Green, the Open School of Music's Girls Jazz program offers young women the opportunity to learn how to perform in a small Jazz ensemble.
The program runs both a junior and senior ensemble, led by Jess Green and Elle Osborne respectively.
Ensemble rehearsals run weekly between 4:30 - 6:30 pm on Thursday afternoons, for 14 weeks each semester.
Applicants must be residents of the ACT aged between 12 - 21, and have been playing their instrument for a minimum of one year.
We encourage applications from both trans and cis-gendered young women.  
We enrol our main round of students prior to Semester 1 at the start of the year, however, we are happy to accept applications for Girls Jazz all year round. Applicants who apply after our main round of streaming interviews will be placed on a waiting list and contacted for an interview if a place becomes available. We will often review our waiting list prior to the commencement of our Semester 2 programs. 
If you'd like to learn more about the Girls Jazz program, you can join us for an open rehearsal on Thursday 2 November at 4:45 PM.  Watch this space for more details, or contact openschoolofmusic@anu.edu.au to register your interest.
To apply for Girls Jazz, please fill out this application form.
Streaming Interviews
Applicants are required to attend a short streaming interview to ensure placement in an appropriate ensemble. 
Students should prepare 1-2 pieces of their choice that demonstrates their musical skill and level. This can be any style of music and doesn't have to be in jazz style. There will also be some questions during the interview about each student's learning and musical experience.
| Girls jazz | Fee per semester |
| --- | --- |
| Girls Jazz Ensembles                 | $135 |
Fees can be paid here through the ANU's OneStop Secure Payment Portal.
Requests for refunds must be received no later than the close of business on the first day of the fourth week of semester and will incur a $30 administration charge. Reasons for refund that will be considered are:
Change of residence by a family moving interstate/overseas
The production of a medical certificate.
Refund requests are to be in writing from the student or parent to:
Open School of Music Administrator
ANU School of Music
Building #100
Canberra, ACT 0200
Key Facts and Figures
Girls Jazz Ensembles meet Thursday 4:30 PM to 6:30 PM
Average Age Junior Ensemble: 12 years
Average Age Senior Ensemble:  16 years
Average Years on Instrument - Junior Ensemble:  3.5 years
Average Years on Instrument - Senior Ensemble:  4 years
2023 Term Dates
Term dates, class times, and our events calendar can also be found on our FAQ page.
Term 1: Monday 13 February - Friday 31 March (7 weeks)
Term 2: Monday 2 May - Friday 16 June (7 weeks)
Recital Week
Chamber Concerts:  Friday 16 June and Saturday 17 June 
Jazz Concert:  Tuesday 20 June
Term 3: Monday 17 July - Friday 15 September (9 weeks)
Term 4:  Monday 9 October - Friday 10 November (5 weeks)
Recital Week
Chamber Concerts:  Friday 10 November and Saturday 11 November
Jazz Concert: Tuesday 14 November
Feedback
Ahead of a new grant cycle commencing in 2024, we are seeking feedback about the Girls Jazz program from current and former students and teachers and members of the wider community.
To make your voice heard, please complete the survey here:  https://anu.au1.qualtrics.com/jfe/form/SV_4Z3Od0ALCu3Ar6m
The Open School of Music thanks it's principal funding partner artsACT.