Girls Jazz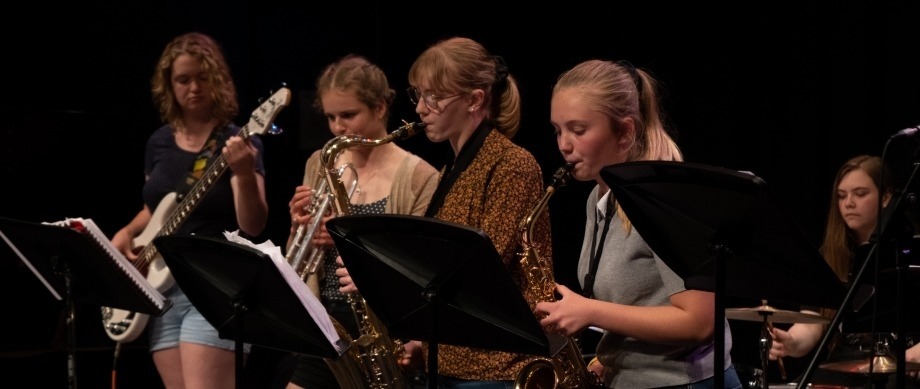 Applications are open for our 2021 program!  If you are interested in applying for our program in 2021, please complete the webform here.  We encourage applications from both trans and cis gendered young women.  
Applications close COB 6 November. 
All students must complete the following declaration within 24 hours prior to attending class:
Led by the versatile and much sought-after teacher Jess Green, the Open School of Music's Girls Jazz program offers young women the opportunity to learn how to perform in a small ensemble, and develop their instrumental skills with individual lessons.
Participants in our junior and senior ensembles meet on a Thursday afternoon from 4:30 PM to 6:30 PM during term time for a 2 hour ensemble rehearsal.  Classes will run for 14 weeks each semester.  
New in 2020, our junior ensemble will be led by Jess Green, while the senior jazz ensemble will be led by local jazz musician and ANU School of Music masters student, Elle Osborne.
Semester fee for Girls Jazz is $135.00.  Fees can be paid through the ANU's OneStop Secure Payment Portal:
https://anu.onestopsecure.com/OneStopWeb/SOM/tranadd?UDS_ACTION=DEFAULT&UDS_ACTION_DATA=FlxXBjVGXQtOLVNxQ0JDdVhTQnc8KUIbX0BFW3IwUkIPRyxd
For more information, contact openschoolofmusic@anu.edu.au or phone 6125 5730.
Key Facts and Figures
Girls Jazz Ensembles meet Thursday 4:30 PM to 6:30 PM
Average Age Junior Ensemble: 12 years
Average Age Senior Ensemble:  16 years
Average Years on Instrument - Junior Ensemble:  3.5 years
Average Years on Instrument - Senior Ensemble:  4 years
Performance Dates:  Ensembles perform at end of semester recital concerts in June and November 2020.  Dates to be confirmed.