Girls Jazz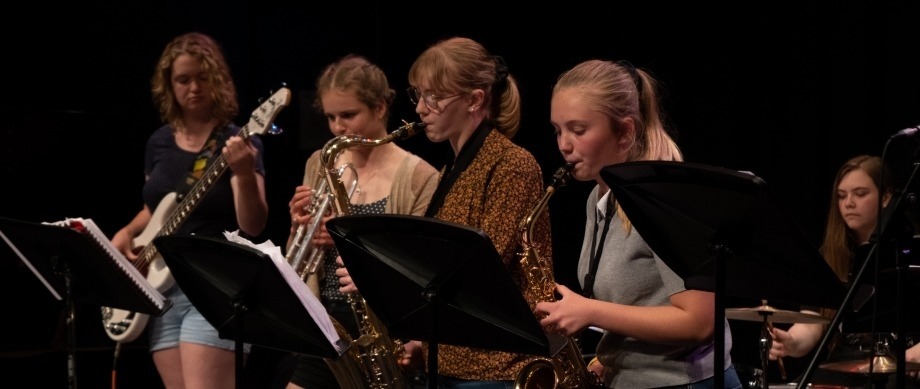 Closure of Open School of Music, Monday 16 March 2020
Dear Open School Students and Supporters,
As you will know from numerous news reports the COVID-19 virus has the potential to seriously impact the health of many across the Australian community. As such the ANU is taking immediate precautions to limit risk factors including the cancellation of all public gatherings.
The School of Music engages with many groups across our community to support the delivery of fine music and important cultural events. All such events will be cancelled from Monday 16 March.
Some of these may be rescheduled later in the year after the risk of viral spread has passed but this is not guaranteed and we are unable to confirm when these activities may resume. We are unable to provide online streaming, recording or modifications to these activities as our staff will be fully engaged in education and research tasks.
Please keep an eye on our webpage and Facebook page for updates. We share your disappointment and sadness regarding this decision but the health of all concerned is our first priority.
If you have paid fees for participation in Open School of Music programs in Semester 1 2020, then the Open School of Music will be in touch as soon as possible with information on how to claim a refund.
In the meantime, if you have any questions, please don't hesitate to contact openschoolofmusic@anu.edu.au.
Led by the versatile and much sought-after teacher Jess Green, the Open School of Music's Girls Jazz program offers young women the opportunity to learn how to perform in a small ensemble, and develop their instrumental skills with individual lessons.
Participants in our junior and senior ensembles meet on a Thursday afternoon from 4:30 PM to 6:30 PM during term time for a 2 hour ensemble rehearsal.  Senior ensemble members receive an additional 45 minutes per week in one-on-one instrumental tutoring, and junior members receive 30 minutes per week.  These classes will run for 14 weeks each semester.  
New in 2020, our junior ensemble will be led by Jess Green, while the senior jazz ensemble will be led by local jazz musician and ANU School of Music masters student, Elle Osborne.
To register your interest in this program, please complete the webform here.  We encourage applications from both trans and cis gendered young women.
Semester fee for Girls Jazz is $135.00.  Fees can be paid through the ANU's OneStop Secure Payment Portal:
https://anu.onestopsecure.com/OneStopWeb/SOM/tranadd?UDS_ACTION=DEFAULT&UDS_ACTION_DATA=FlxXBjVGXQtOLVNxQ0JDdVhTQnc8KUIbX0BFW3IwUkIPRyxd
For more information, contact openschoolofmusic@anu.edu.au or phone 6125 5730.
Key Facts and Figures
Girls Jazz Ensembles meet Thursday 4:30 PM to 6:30 PM
Average Age Junior Ensemble: 12 years
Average Age Senior Ensemble:  16 years
Average Years on Instrument - Junior Ensemble:  3.5 years
Average Years on Instrument - Senior Ensemble:  4 years
Performance Dates:  Ensembles perform at end of semester recital concerts in June and November 2020.  Dates to be confirmed.