Girls Jazz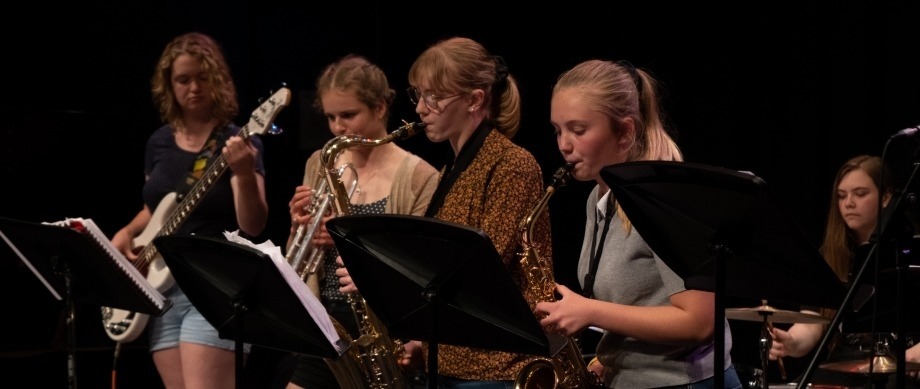 Led by the versatile and much sought-after teacher Jess Green, the Open School of Music's Girls Jazz program offers young women the opportunity to learn how to perform in a small Jazz ensemble.
The program runs both a junior and senior ensemble, led by Jess Green and Elle Osborne respectively.
Ensemble rehearsals run weekly between 4:30 - 6:30 pm on Thursday afternoons, for 14 weeks each semester.
Term dates can be found on our Student Resources Page.
Applicants must be between the ages of 12 - 18, and have been playing their instrument for a minimum of one year.
We encourage applications from both trans and cis gendered young women.  
Applications are now closed for Semester 1, 2021.
Late applications may be considered on a case-by-case basis.  Please contact openschoolofmusic@anu.edu.au for more information.
| Girls jazz | Fee per semester |
| --- | --- |
| Girls Jazz Ensembles                 | $135 |
Fees can be paid through the ANU's OneStop Secure Payment Portal:
https://anu.onestopsecure.com/OneStopWeb/SOM/tranadd?UDS_ACTION=DEFAULT&UDS_ACTION_DATA=FlxXBjVGXQtOLVNxQ0JDdVhTQnc8KUIbX0BFW3IwUkIPRyxd
Requests for refunds must be received no later than the close of business on the first day of the fourth week of semester and will incur a $30 administration charge. Reasons for refund that will be considered are:
Change of residence by a family moving interstate/overseas
The production of a medical certificate.
Refund requests are to be in writing from the student or parent to:
Open School of Music Administrator
ANU School of Music
Building #100
Canberra, ACT 0200
Key Facts and Figures
Girls Jazz Ensembles meet Thursday 4:30 PM to 6:30 PM
Average Age Junior Ensemble: 12 years
Average Age Senior Ensemble:  16 years
Average Years on Instrument - Junior Ensemble:  3.5 years
Average Years on Instrument - Senior Ensemble:  4 years
Performance Dates:  Ensembles perform at end of semester recital concerts in June and November 2020.  Dates to be confirmed.