ANU Cello Mini-Festival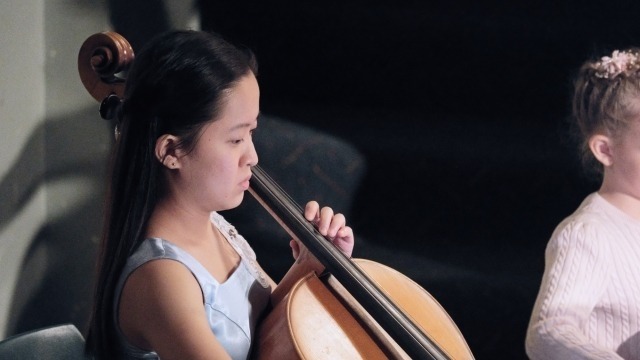 Join us for the inaugural ANU Cello Mini-Festival!
This event will bring together ANU School of Music and Open School of Music staff and students and cello students from across Canberra and the region with leading cellists and teachers.
Registrations
Register as a participant here: https://anu.au1.qualtrics.com/jfe/form/SV_ebrozvhFO3cCAHc
Registrations close COB Friday 10 February.
| | |
| --- | --- |
| Panel discussions registration cost | $60 |
| Community cello choir registration cost | $25 |
| Masterclasses registration cost | $10 |
| Competition/recital registration cost | $30 |
School of Music/Open School of Music students are eligible for free registration/tickets.
Registrants may sign up for one, or all activities on offer. Please see more information below.
From 9am to 6pm on Saturday 18 February, registrants will have the opportunity to attend panel discussions on "Life and Career after earning one's BMUS (Classical Cello Performance)", mediated by David Pereira (Senior Lecturer in Classical Performance [Cello] - The Australian National University).
Registration cost: $60
Panel discussions schedule
9am: Rachel Johnston (Teacher [Cello] - The Australian National University)
10am: Patrick Suthers (Principal Cello - Canberra Symphony Orchestra)
11am: Anna McDonald (Convenor of the Women in Music program - The Australian National University, honorary cellist)
12pm: Robert Jackson (New England Conservatorium of Music, Armidale)
2pm: Jack Hobbs (Bemboka), Liam Meany and Rita Woolhouse
3pm: Zoltan Szabo (Sydney Conservatorium of Music)
4pm: Rachel Scott (Australian Children's Music Foundation, Bach in the Dark, Sydney)
5pm: Josephine Vains (Victorian College of the Arts Secondary School, The University of Melbourne, Firebird Trio)
From 7pm to 9pm on Saturday 18 February, adult registrants may also participate in a relaxed Community Cello Choir session. 
Registration cost: $25
Led by Gillian Pereira, this event will be preceeded by a conversation on "The Adult Cello Student – possibilities and challenges for learning" with Professor Wilhelmina van Rooy at 6pm (see Wilhelmina's CV and presentation summary attached below). Cellists of all levels of skill are welcome to participate, from open string to established players.
Music will be available for rehearsal prior to the event. If you have any further questions please contact Gillian on 0407 256 235.
At 3pm on Sunday 19 February, all cellists and cello enthusiasts are invited to watch a Rhetoric Masterclass with Josephine Vains and a Bach Masterclass with Zoltan Szabo, featuring ANU School of Music cello students.
Registration cost: $10
At 9am, 12pm, and 6pm on Sunday 19 February, outstanding cello students representing the most productive cello studios of our region will compete and perform in three showcase recitals.
Audience members can choose how much they pay for each ticket. All income will go towards the administration of the Cello Mini-Festival, and will help the School of Music continue to host similar events into the future!
Purchase tickets for the Cello Recitals here: https://www.eventbrite.com/cc/anu-cello-mini-festival-recitals-1590139?just_published=true
Recital Guidelines
Registration cost: $30 (this includes entry to the recital for one family member)
Recital participants must perform two contrasting works. Primary students performing from 9am must play for 4-7 minutes in total. Secondary students performing from 12pm must play for 9-12 minutes in total. Tertiary students performing from 6pm must play for 12-15 minutes in total.
Recital participants may only perform in one concert. Participants may only perform works for solo cello, or cello and piano. Upon registration, participants may opt out of performing as a competitor in the running to win several prizes.
Recital articipants will have to organise their own associate artist if necessary (each performer must liaise directly with their assocaite artist regarding costs, rehearsals, etc.). The following ANU School of Music approved associate musicians are available to perform with participants only if contacted by COB Friday 3 February:
To ensure a high standard of entries, we appreciate that applicants will have secured endorsement from their teachers and mentors.
File attachments